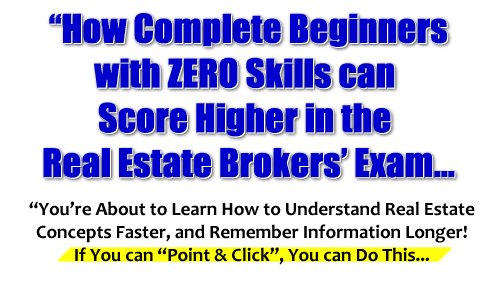 RESAR on Oct 28 2010 | Filed under: General, Real Estate Review
Did you know that you can review for the real estate brokers' licensure examinations while you have dinner? Here's exactly how to do it with the help of the RealEstateSeminarAndReview.com or RESAR Online Review…
Inside the web-based membership area are tutorials which are in online video format. They come in the form of PowerPoint presentations, with a voice-over narration.
So, not only do you hear the words, you will also see the slides containing the key concepts in real estate.
If you're in learning mode, look at the PowerPoint slides. When you're in review mode, look away from the online video and just listen to the narration.
Soon, you will find yourself saying the words before the speaker utters them. That's how you will know that you have absorbed the real estate review material.
Look at this…
You can set-up your computer, log into the RESAR Online Review web-based membership site, and play the online video. Or even play the audio MP3 file of the Real Estate Terminologies/Glossary section, if you wish.
Then you go about your other stuff, or have your dinner, or do your household chores, or fix your clothes, or do anything else (except read) while you LISTEN to the online lecturer.
If you do this for only 60 minutes a night, then in 6 months you would have listened to 180 hours of real estate review lectures.
Now if you only have 27 minutes a night (e.g., that's how quickly you eat your dinner), then in 180 days it's like you listened to 81 hours of real estate lectures.
You don't even have to strain to listen. Just sit back and relax, and imagine you're listening to a song playing on the radio. Or in this case, the external speaker of your computer. 😀
Before you know it, you would've practically memorized the words that the lecturer is saying, in the same way that you learn the lyrics of a song that's regularly playing in the background.
In some cases, you will have easily memorized an online lecture in as short as just two days, because you are comfortable.
(TIP: To learn something faster, learn the material in a relaxing and comfortable environment.)
And you can do this while you go about doing other things in your home. How's that for making the most of your time, right?
Self-Learning and Auto-suggestion
Look at it as a kind of hypnotic auto-learning which you will hear repeatedly while you do other physical things in your house. This will help you remember the real estate review material longer, because you will be able to associate it with a physical action.
For example, you will remember that the lecturer was talking about the Fundamentals of Property Ownership while you were choosing your favorite beverage from the refrigerator.
This works quite well also with kinesthetic learners who have to be moving some part of their body while listening to a lecture.
As you can see, the RESAR Online Review takes a multiple-intelligence approach to helping you learn online.
Here's a quote from Eugene Schwartz, world-renowned copywriter:
The person who is the best prepared and the most knowledgeable makes the most money.
The RESAR Online Review helps you prepare and become more knowledgeable about real estate concepts and topics in the Philippines. And you do realize what knowledge and preparation can bring into your life, right?
Yes, you deserve more.
Join the RESAR Online Review Announcement List today.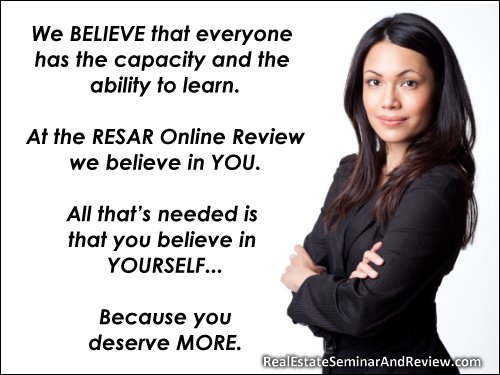 10 Responses to "RESAR Online Review While You Eat"
Leave a Reply