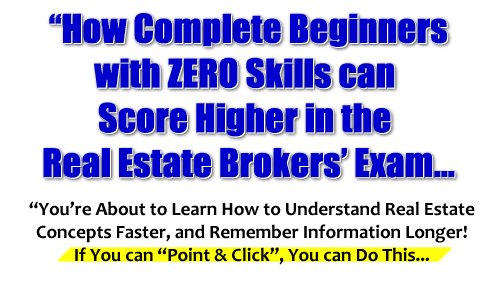 RESAR on Feb 14 2011 | Filed under: General, Real Estate Review
Here is an example of an online quiz for those preparing for the Real Estate Brokers' Licensure Exams which the PRC will be conducting. This assumes you have a speedy and reliable internet broadband connection, and that you have the latest version of Adobe Flash Player installed in your computer…
You will notice that when you take the RESAR Online Quiz again, the questions will be shuffled. This ensures that you are truly learning and reviewing, and not simply memorizing the sequence of answers.
You will also see a "Review Feedback" button.
There are times when members of the RESAR Online Review post questions about certain quiz answers. In such cases, we edit the online quiz so that you can see the explanation behind the chosen answer.
For example, if the answer to a quiz question is "None of the Above", and if the RESAR Online Review member asked: "So, what's the correct answer?", then we provide the actual answer which you will see when you click on the "Review Feedback" button.
In other cases, the "Review Feedback" button will show you a link that leads to a webpage where you will find an online discussion pertaining to that particular online quiz question.
When you try the online quiz demo, you'll find a question about what is the minimum carriageway of major roads of socialized housing projects.
When you review your online quiz answers and you reach that question, the "Review Feedback" button will show you a link that leads to a webpage used as a basis for the answer.
With the RESAR Online Review Online Quizzes, you are not simply going through a list of questions and multiple choice answers. You also have the opportunity to see the basis for the answers, or read (and even participate in) the online discussion with your fellow RESAR Online Review members.
The result: You learn faster and retain the information longer. This helps you improve your chances of scoring higher in the real estate brokers' exam.
Those Comprehensive Real Estate Seminar and Review or CRESAR sessions require an investment of your money, and more importantly, your TIME. That's why you need every tool and advantage you can get, to help you achieve your real estate career goals and dreams faster.
We look forward to seeing you inside the web-based membership area. Join the RESAR Online Review today! 🙂
Click here to see a Demo Online Quiz (this opens in a new window). Please give the quiz around 30 seconds to fully load (load time depends on your internet broadband connection).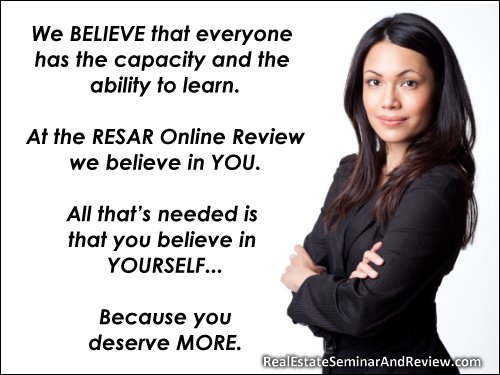 14 Responses to "Real Estate Online Review Demo Online Quiz"
Leave a Reply