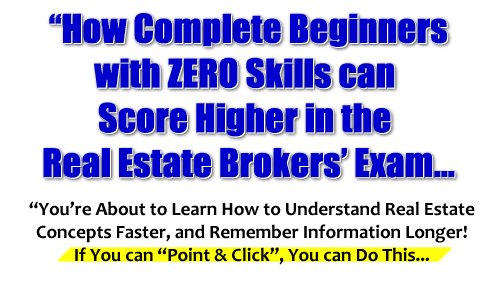 RESAR on Nov 05 2010 | Filed under: General, Real Estate Review
If you're preparing for the real estate brokers' licensure exams, here's some food for thought from William Arthur Ward…
BELIEVE while others are doubting.

PLAN while others are playing.

STUDY while others are sleeping.

DECIDE while others are delaying.

PREPARE while others are daydreaming.

BEGIN while others are procrastinating.

WORK while others are wishing.

SAVE while others are wasting.

LISTEN while others are talking.

SMILE while others are frowning.

COMMEND while others are criticizing.

PERSIST while others are quitting.
From what we've seen and experienced, it will help you greatly if you immerse yourself in your real estate studies for four months before the real estate brokers' exam.
Yes, there are people who have successfully passed the REB exam in the past even if they just crammed one month before the actual exams. But ask yourself first if you can really afford all that stress.
Let's say you decide to prepare only one month before the exams. You have your schedule, your motivation is high, you have your work all lined up neatly for you.
And then stuff happens.
There's a family emergency. Or parties you absolutely have to attend. Or school meetings and activities to support. Or you catch the flu. Or you have a rush/super-rush project to complete. Or you have to submit a report that was needed yesterday.
Or… well, you get the picture.
That "one month" slowly turns into just three weeks, and then only 15 days. Can you imagine how the stress and anxiety might build up?
That's why we highly recommend a training and immersion period of four months.
Yes, you can do it in 3 or even 2 months. Some have even simply crammed everything in 15 days. Our four-months' recommendation takes into account the fact that we want you to be able to manage your stress much better.
Remember: Mindset plays an important role in passing the Real Estate Brokers' Licensure Examinations.
That's why you need every tool and every advantage you can use, such as the RESAR Online Review (click here for details).
Afterall, you do deserve more.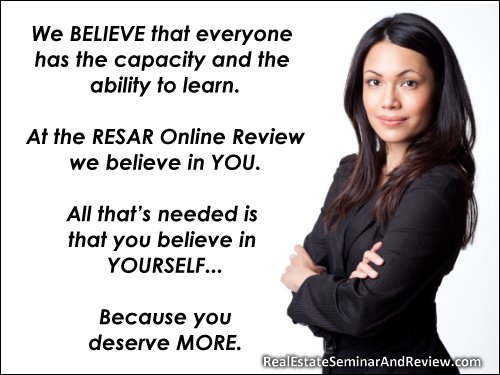 One Response to "Real Estate Online Review Food For Thought"
on 05 Dec 2010 at 9:05 pm

1

Aurea Juan

I'm interested on your online review but what if I have questions about the lessons, how can I find the answer. I have no experience yet in selling houses but I'm interested to become a broker, is it advisable to take a licensure exam eventhough I have no experience in selling yet?

[From the Admin]

While it will be much better to get some amount of experience in selling in real estate, we know of people who have successfully passed the real estate brokers exam even with zero experience in selling.

If you have questions about the lessons in the online review, you may post your inquiry in the comments section under each lesson.

It's similar to this blog here at RealEstateSeminarAndReview dot com, where you can post your question in this comments area.

Thanks!
Leave a Reply