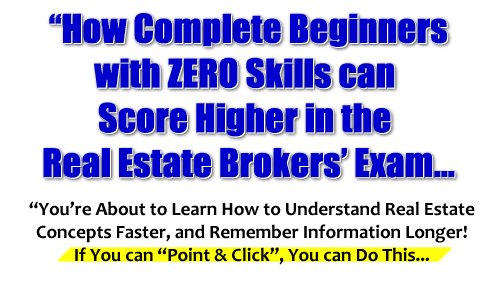 RESAR on Feb 22 2011 | Filed under: General, Real Estate Review
With the PRC Real Estate Brokers' Licensure Examinations fast approaching, some people are asking why the RESAR Online Review continues to offer a 180-day promo package when there are only a few days left before the actual REB Exams. Here's what one of the members of the real estate brokers exam online review has to say:
I enjoy your online reviews and I want to have access even after the … exam for reference.
— Art Ozoa, on the RESAR Online Review
You need to look beyond the REB exam. Here's why…
First of all, the REB exam is basically just one day of your life. Ask yourself what happens to your real estate career after the exam date.
For example, after the exam, can you simply just go ahead and forget about all those real estate concepts the day after the exam?
Of course not.
As a real estate professional, you need to sharpen the saw, so to speak. You need to regularly review what you've learned, because it isn't everyday that you deal with issues concerning real estate taxation, property ownership, and other related subjects.
Yet when, from out the blue, a client enters your life and asks you a question about real estate, will you be able to answer confidently and professionally?
Or will you stammer and say: "Uh… Let me get back to you on that…" while you go through your house looking for a dusty copy of your old notes?
TIP: If you haven't already, please put your real estate exam reviewer notes in sturdy binders, and store them in a nice shelf (hopefully with a cover to keep the dust out), or in transparent filing cabinets.
Why transparent? Well, you know how the saying goes: "Out of sight, out of mind."
And that's why people see the value of revisiting the RESAR Online Review members area over a period of 180-days, even after the real estate brokers' exam has been conducted.
They want to regularly review and keep their mind sharp, so that they can exude a sense of authority and credibility each time they face new prospects, or even when they touch base with previous clients.
Let's clarify a few things… You can complete the main lessons over a 16-day period. The online quizzes are available right from Day One of your membership.
You might be wondering: 16 days? 180 days? Will we just repeat those "16 days" over six months?
Well, there are BONUS modules that will help you beyond the REB Exams, because these modules deal with marketing. As a real estate professional, it's not enough to just know the property laws, the real estate brokerage concepts, or even the different approaches to selling.
You also need training in the field of Marketing, because there is a difference between Sales and Marketing.
Also, as you immerse yourself in the RESAR Online Review, you will be exposed to different tips, tactics, and techniques in training. You can then use this additional skill when you yourself train the real estate salespersons under you.
You cannot (and should not) do everything just by yourself, which means you will need to teach, train, and build a team.
So please look beyond the review and the exam. Look beyond the 180 days.
Afterall, being a real estate professional is a lifelong commitment.
That is one of the reasons why, before you may apply for the renewal of your real estate broker's license, you will need to earn Real Estate Continuing Professional Education units.
But please do it only if you find it fun. That way you will remain passionate about what you do, and this will help you attract the right people into your life.
Here's wishing you fortune and success in your real estate career! 🙂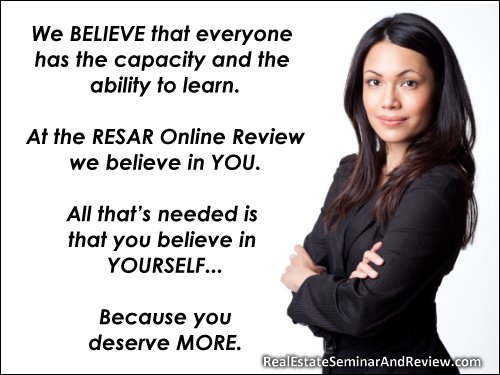 3 Responses to "RESAR Online Review – Why 180 Days?"
on 24 Mar 2011 at 3:44 am

1

sandra palma

good day! i just want to ask how can i extend my membership with the online review of yours? my membership been expired and i want to access the privilage you are giving to your members. i hope i can still be a memeber. thank you so much. more power and God Bless

[From the Admin] Hi! The details were emailed to your Inbox. Thanks!

on 18 Mar 2011 at 9:36 pm

2

Josephine

How do I apply for this online real estate review?

[From the Admin] Hello! Please join the RESAR Online Review Announcement List for details. Thanks!

on 04 Mar 2011 at 5:00 pm

3

kulasa

hi! can you distinguish commission agent from commission merchant? thanks
Leave a Reply