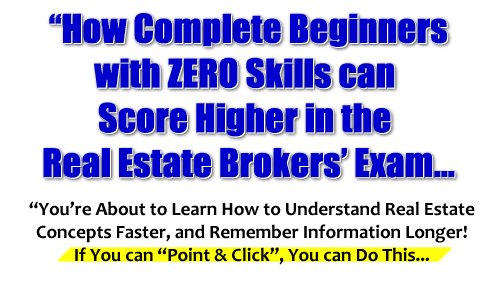 RESAR on Apr 15 2010 | Filed under: Real Estate Review
You've probably heard about the RESA Law, and how responsibility over the Philippine real estate brokers licensure examination has been transferred from the DTI to the PRC.
We're still waiting for the PRC to issue its Implementing Rules and Regulations, and former real estate exam reviewers have put their seminars and review offerings on hold.
I'm curious… would you like us to teach you online what we learned in previous real estate seminar and review classes?
Please let us know. If enough people are interested, then we will proceed. Thanks! 🙂
UPDATE: Pricing of Real Estate Exam Online Review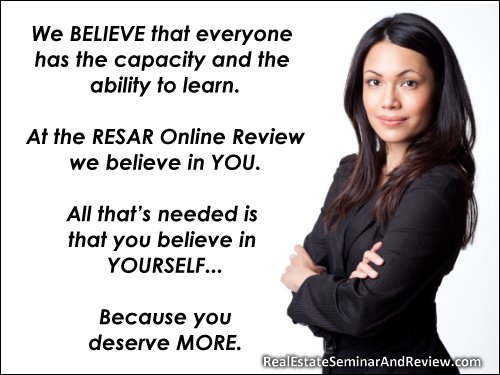 29 Responses to "Real Estate Brokers Licensure Online Review?"
on 16 Oct 2012 at 7:12 pm

1

Leticia Chu Nicanor

I am a passer of Real Estate Broker Examination given by Department of Trade and Industry last November 19, 1995, eversince I have not paid any Professional Tax Receipt (PTR) with the local government within our locality. I am from Tacloban City, Leyte. Can I register with PRC now or am I still qualified to register with PRC with this set up?

[From the RESAR Admin] Hello… You will need to pass the REB Exam conducted by the PRC. Thanks!

on 02 Jul 2012 at 8:17 am

2

Melva Rama

hello, I just to know the date for the licensure exam for the brokers,thanks

[From RESAR] Hi! We haven't seen the official PRC announcement yet. Please take note that the past 2 REB Exams were held in March 2011 and March 2012. Thanks!

on 02 Jul 2012 at 8:16 am

3

Melva Rama

hello, I am interested for the brokers review,I just want also to know when is the exam in Prc for the brokers

[From RESAR] While the past 2 REB Exams were held in March 2011 and March 2012, the PRC has not yet announced the 2013 schedule of exams. Thanks!

on 02 Jul 2010 at 9:49 am

4

Agna P. Valencia

Yes, am interested please let me know when to start. thanks.

[From the Admin] The online review starts on 21 July 2010. For the details, please join the Online Review Announcement List. Thanks!

on 29 Jun 2010 at 7:48 am

5

liza

I'm interested in your on-line review classes. Please consider me in your early bird promo..Please let me know the details. thanks!

[From the Admin] Thanks for joining the Online Review Announcement List. You're qualified to avail of the early bird promo. Details will be emailed to you soon.

on 07 Jun 2010 at 1:26 pm

6

Claire Ramones

I'm a college graduate without any experience on Real Estate, but I'm interested to take the real estate exam, hope you could help me ..thanks

on 04 Jun 2010 at 8:26 pm

7

antonia b. bonsol

im into real estate business , i want to be broker, how can i review on line and when will be the exam

[From the Admin] There have been reports that PRC will conduct real estate brokers licensure examinations on Dec 5 and 6, 2010. Please stay tuned for announcements from accredited real estate review service providers.

The upcoming online review will be based on topics covered in earlier exams (when it was still the DTI and not the PRC handling the exams for real estate brokers).

on 02 Jun 2010 at 4:32 pm

8

tess

Hi, I am also interested please advise me thru email. Though I don't have any background yet on real estate selling, hope I can catch up. Thank you.

on 25 May 2010 at 6:40 pm

9

anna

I'm interested the online real estate review, because of my busy schedule please let me know, and how much.

[From the Admin] Thanks, Anna. I've updated the blog post by adding a link to the Pricing Info.

on 24 May 2010 at 3:32 pm

10

alan

respectfully express my interest to avail the review online in real state broker for the forthcoming Examination on Oct 2010 …. please inform thanks..

on 23 May 2010 at 4:02 am

11

Chona

Well, it's great to know that there's an online review for the broker's

licensure exam. I'm interested in taking it.

Thanks, Mark! Stay tuned…

on 19 May 2010 at 5:48 pm

13

MarkDC

Hi! It's very good to hear that an online tutorial will be available soon. I just hope that the PRC will finish the IRR's at soonest time. Do let me know as soon as the OT is up and running. Thanks.

Thank you for your interest. We are preparing the materials for online access, so that you will see what we've reviewed in the past. Once enough people have expressed interest (initial promo price is P500), the online review will be launched.

on 18 May 2010 at 12:42 am

15

Joy T.

Hi,

I'm interested about the review. Please let me know if when the material will be available online.

on 15 May 2010 at 7:46 pm

16

PEP

i'm really interested in getting the Real Estate Brokers Licensure
Online Review. just let me know of your schedule once available. thanks.

on 05 May 2010 at 6:10 pm

17

MN

Please let me know via email when you have finally put together your online review program. I am a licensed broker but, because I have been out of the country for some time, have not had the chance to use it. I am interested to know if you will have an online CEP as well. If not, I guess an online course for exam takers will do for now. I hope to hear from you soon.

[From Admin] We don't have an online CEP at the moment. Thanks for dropping by this site. 🙂

on 05 May 2010 at 7:46 am

18

Ralph Y Arias

I am interest too! but I prefer more the reading materials so I can access it anytime and everytime i want. My children are always using the net.

[From Admin] Once the RealEstateSeminarAndReview.com Members' Area is ready, you will have access to downloadable PDF files that you may read. The true value, however, is in the online multimedia tutorials which will engage your visual and auditory senses. Perhaps your children can give you 45 minutes of internet access time every other day.

on 30 Apr 2010 at 10:19 pm

19

Zenaida Monserrat

I'm interested in "Real Estate Brokers Licensure Online Review" pls advise me of your schedule once available. Thanks.

[From Admin] If enough people express their internet, we will announce the start of the online review. It will be web-based, which means you can access it from anywhere you have an internet connection. It will also help if your computer has a sound system (most internet cafes have headsets).

on 30 Apr 2010 at 5:04 pm

20

alex

m intrsted in the on line review for real estate brokerage…
please let me know when…thanks

on 28 Apr 2010 at 3:34 pm

21

ROLLY BUENSALIDA

Hi! I am interested in the online review. please send me info as soon as it is available. thks.

I'm very interested. Please let me know when it's available.

on 26 Apr 2010 at 12:31 pm

23

Rachelle

Hi! Definitely interested, just email me details on how to proceed..thanks

@jenny – The initial promo price is only P500, which gives you three months' access to the online tutorials.

http://www.realestateseminarandreview.com/archives/real-estate-exam-online-review-classes/

on 22 Apr 2010 at 12:02 pm

25

jenny

how much will be an online review

@Grace – It's difficult to recommend reading materials, because we don't know yet what topics the PRC will require as far as the Real Estate Brokers' Licensure Examination is concerned.

But if they will more or less tackle topics similar to what was covered by the DTI (prior to the RESA Law), then please skim through books about Income Taxation (particularly sections related to property ownership, transfer of property, real estate tax, estate tax, and rental income).

@JAG and @Tina – Thank you for your interest in an online review of past topics covered in earlier real estate brokers' exams. If at least 30 people signify their interest, we will publish sample online lectures/tutorials. Stay tuned! 🙂

on 20 Apr 2010 at 5:25 pm

27

Tina Burgos

That would really help…please inform me if this will push thru..thanks!

on 16 Apr 2010 at 7:08 pm

28

JAG

I am interested. Fill me in with the details once the online review classes are finalized. Thanks a lot.

on 16 Apr 2010 at 10:58 am

29

Grace

Good day! 🙂 In my case I prefer to avail a copy of the latest review materials. I bought a book and manual from the bookstore but I'm not confident enough about its content because it was published many years back. Could you advise us about good choice of reading materials? Thank you. I hope you also consider to sell updated and very relevant reading resources online.
Leave a Reply