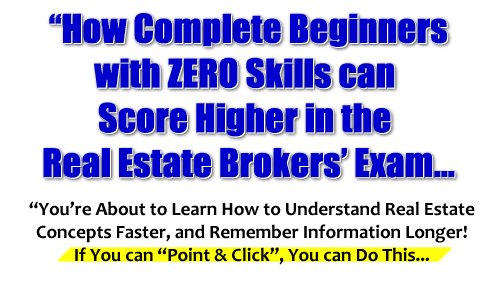 RESAR on Sep 29 2010 | Filed under: General, Real Estate Review
We attended a live, face-to-face real estate review seminar in preparation for the real estate brokers' licensure examination. This was before the passage of the RESA Law (RA 9646), or even the publication of the RESA Law IRR. This was when the DTI was handling the licensing of Philippine real estate brokers.
But the story will most likely be repeated even in today's Comprehensive Real Estate Seminar and Review (CRESAR) handled by accredited review service providers…
Back then, the DTI required a minimum of 24 CRESAR units. This translated to 24 hours.
There were different real estate review packages, and we chose the six, four-hour session schedule because we simply did not have the time to sit through the longer sessions (e.g., four 6-hour marathon sessions).
Remember, at that time we were required to earn a minimum of 24 credit units (CRESAR).
With the RESA Law IRR requirement of 120 credit units in real estate brokerage training, it makes you wonder what kind of review sked you will need to endure.
Anyway…
Those four-hour sessions were actually five hours per session, because time was made (of course!) for snacks, meals, and merienda.
There were handouts, but what made the CRESAR valuable was the speaker who would often mention things not written in the printed handouts.
So there we were, furiously scribbling notes on the margins of our handouts, and trying to politely answer some seatmates who kept tapping us every 10 seconds while asking us: "Ano raw? Ano ang sinabi niya?"
And there we were, trying not to visit the bathroom too often, because we would certainly miss another piece of info that the speaker would share while we were outside the room.
Do you know what it's like to sit in a tiny chair, write notes, listen to a speaker, answer questions from seatmates, eat, drink without wetting your things, visit the CR, go back to your chair, and repeat the whole thing for four or even six hours?
And then go through the whole thing around five more times to meet the DTI's minimum 24 CRESAR hours?
What do you think is going to happen with the 120 credit unit requirement of the RESA Law IRR for those who want to take the Real Estate Brokers' Licensure Examinations?
Why have a Real Estate Online Review?
Some people have asked about this, because what's the point of taking a course that is not accredited, and will not earn credit units that will be recognized by the PRC?
Quite simply: You will learn better and remember longer.
True, attending a CRESAR will earn you a Certificate of Completion/Attendance, that you will need when applying for an Examination Permit for the REB Licensure Exams.
Yet… how will you remember all the things you've learned?
With the RESAR Online Review you can:
Avoid embarrassment (from those who don't believe in you), because you'll be better-prepared. (NOTE: We in RealEstateSeminarAndReview.com believe in YOU. It's clear from the amount of publicly-accessible content that we publish here that we do believe in you.)
Play the online videos as many times as you want… in private. Walang makukulitan na resource person, kaya click lang nang click ng PLAY button. 🙂
Listen to the speaker go through a lesson as many times as you want… without getting impatient stares from co-reviewees.
Learn (through repetition of the audio lessons) real estate laws and concepts for real estate brokers while you're doing other tasks or chores… again, as many times as you want.
Look more attractive and relaxed… because you can PAUSE the audio-visual lesson if you need to go to the bathroom, then click on the PLAY button and continue from where you left off. Ah, heaven!
Take online quizzes (in private) to test your knowledge of real estate terms. No one will tease you about your scores while you're still in "learning mode."
Save yourself from the hassles of commuting, driving, parking, traffic, or going home late at night.
Gain more confidence, because you can post your questions in the comments area… and read the questions of others plus the answers. You won't miss a thing!
Protect yourself from negative relatives and friends, because you can first test yourself, in private, and prove to yourself that you have what it takes to study and learn again.
Stay healthier longer… because you can comfortably stretch in your more spacious chair space.
Eat better and feel more comfortable… because you can choose the food and beverages that you want, and not simply accept whatever some live seminar organizers tend to feed us seminar attendees.
Regain control of your own time… because you can choose to study online when you feel like it.
Live CRESAR sessions conducted by accredited review service providers are important. You really need to attend those.
But are you going to deprive yourself of the added advantages that real estate exam online reviews can also give you?
Wouldn't it be better if you would actually retain the information that real estate brokers need, for a much longer period of time? You do wish to look beyond the real estate brokers exam, right?
Wouldn't you want to have a one-stop online resource that you could easily search (with just one click of a button) and refer to, if ever you forget a key piece of information?
That's what you get with the online review.
It's not just a way of learning more about Philippine real estate. It also becomes an Online Multimedia Real Estate Library that you can repeatedly go back to and learn from.
Many others are taking advantage of this modern way of learning, because it will help give them the competitive advantage in the increasingly professional real estate landscape.
So please don't get left behind. Afterall, you do deserve much more.
» Click here now, Future Real Estate Broker… «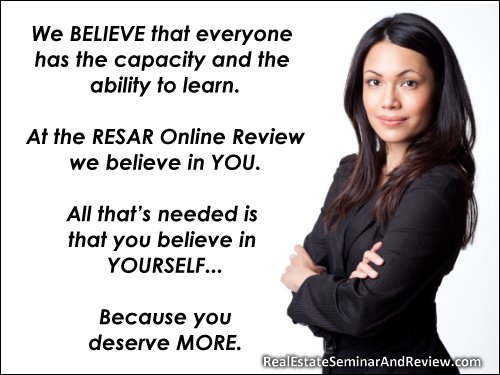 3 Responses to "Live Real Estate Seminar Experience"
on 01 Nov 2010 at 12:43 am

1

Nel

can i ask 4 d skedules of d live seminars n makati or n metro manila? Thanx

[From the Admin] We will post the CRESAR schedules and pricing as soon as we get the announcements from the different CRESAR review service providers in Makati or Metro Manila. Thanks!

on 06 Oct 2010 at 11:17 am

2

Felix Lota

May I ask if during the online review lessons, do I need headset or PC speakers or Webcam? Do I need to be connected online when having the lessons or viewing the videos? or the videos are attached to my emailed not LINKED only..

Thanks..

[From the Admin] Thank you for asking. Yes, you will need a headset, or good external speakers if your surroundings are not too noisy. A headset is best. You don't need a webcam for the RESAR Online Review.

Yes, you will need to be online in order to view the videos. You may download the PDF files, though, which you can later read even if you're not connected online. Thanks!

on 03 Oct 2010 at 9:21 pm

3

princess

hi! hello thank you for the online review for real estate broker and it help to me very much. can i ask when is the seminar for the aspiring real estate broker? thank you for your reply.

[From the Admin] Hello! No word yet from the accredited review service provider. But we'll post their announcement online, and also broadcast it via email as soon as we get word of their real estate CRESAR schedule and other info. Thanks!
Leave a Reply