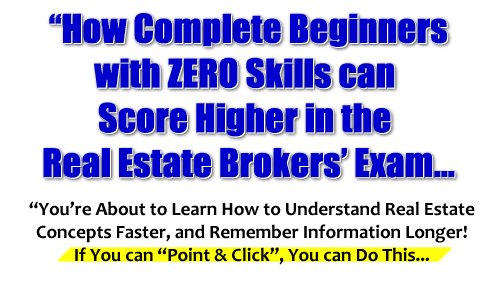 RESAR on Oct 10 2010 | Filed under: General, Real Estate Review
Are you preparing for the real estate brokers' licensure exams? Does the RESA Law IRR (RA 9646) have you scrambling to earn those 120 units in real estate brokerage training? Here is an important tip for you aspiring real estate brokers who are thinking of attending a Comprehensive Real Estate Seminar and Review (CRESAR / CRESR)…
TIP: Treat it as a review.
You can treat it as a real estate exam review by getting background info on the various real estate topics BEFORE you attend the CRESAR.
For a number of people, attending a CRESAR is a first-time experience. And so they struggle to remember all the terms being talked about during the seminar.
Imagine this… You're sitting in an 8-hour, whole day seminar. And you're probably getting stressed because the reviewers are going to cram 120 hours of real estate training in just a few days.
In about 15 days, to be exact.
Can you picture that in your mind? There you are, sitting in front of a lecturer, for 8 hours a day, for 15 long days.
It will make you think:
When will this finally end?
And not only that. It will also STRESS you out.
You have an idea of what stress can do on your ability to learn. Yes, your brain will feel like its getting quite slow.
In addition, the physical stress of paying attention for 8 hours will take its toll on your body. And that's just ONE day.
How much more when you stress your body for 15 days.
And then there's the cost of around P1,000 per day of the Comprehensive Real Estate Seminar and Review…
The Solution
Treat it as a review.
Join the RESAR Online Review and expose yourself to the various terminologies in real estate. Get familiar with the key points of various laws related to real estate in the Philippines.
Watch the online videos repeatedly. Use the power of repetition to make your learnings a natural part of you.
It almost becomes second-nature to you. Repetition brings your education to the point where the right info escapes from your lips… automatically.
Once you've gained exposure to real estate brokerage concepts, go and attend the required CRESAR and earn your 120 units.
Here's What Happens…
Now because you have gotten exposed to real estate training topics in the RESAR Online Review, when you attend the CRESAR it will feel more like a review for you, rather than a lecture that you will be hearing for the first time.
Your confidence will soar because you will be nodding in agreement to what the CRESAR speaker is lecturing.
You will no longer be nervously saying "Ano raw?" because the speaker will be teaching something that sounds familiar to you.
What a great way to reduce your stress, right?
And as you become calmer and more confident, you will discover that learning becomes so much easier. It will feel like your IQ went up.
Remember this: The calmer you are, the faster you learn and the longer you will retain that information.
Here's proof…
What is 1 + 1?
You may have automatically answered: "TWO!"
And you might be sitting there, with your chin resting on your hand, and thinking: "Hmph! Ang dali naman nyan!"
Yet have you seen young children who are learning "1 + 1" for the first time? Have you seen how they struggled, how they sweated, and how they wanted to cry?
Now look at you. Why can you give the correct answer to "1 + 1" in just a split second?
The secret: Repetition.
Repetition makes something familiar to you. And the RESAR Online Review will help make real estate concepts familiar to you.
It will even come to the point where the speaker (during a regular, face-to-face, and live CRESAR) will ask: "What is the Capital Gains Tax?"
And then, in your mind, you will be happily shouting: "6 Percent!"
Can you imagine what a confidence-boosting effect this will have on you? There you are, in the middle of a large group of aspiring real estate brokers, and you're smiling because it really feels like a REVIEW for you.
So say goodbye to SCARY first-time CRESARs.
Boost your confidence and learn faster by pre-learning real estate concepts. Join the RESAR Online Review today!
Afterall, you deserve more.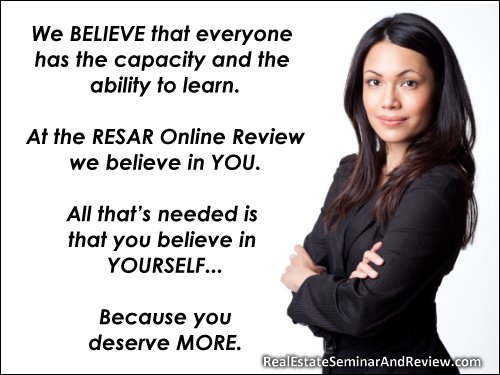 2 Responses to "CRESAR Review Tip"
on 07 Jan 2011 at 8:56 am

1

aries

How to join the RESAR online review ? Can I earned a units if I join the RESAR online review?

[From the Admin]

Hi! Please join the RESAR Online Review Announcement List for details.

The RESAR Online Review does not earn you units. It is an optional/supplementary multimedia review that uses modern learning and training techniques designed to help you learn real estate concepts faster, and retain the info longer, thus helping you improve your chances of getting a higher score in the real estate brokers' exam.

Thanks!

on 25 Oct 2010 at 5:27 am

2

Shieryl

i just want to ask if possibly there would be an accredited Realtors who would conduct CRESAR here in Batangas. When will they start? How much would be the fee?

[From the Admin]

We haven't come across any announcements yet from the realtors in Batangas, but if ever they do organize a CRESAR, we will post the details online as soon as we get them.

No info yet on Batangas CRESAR pricing, but the price range we've been seeing is P12,500 to P15,000 for a 120-hour CRESAR. Thanks!
Leave a Reply