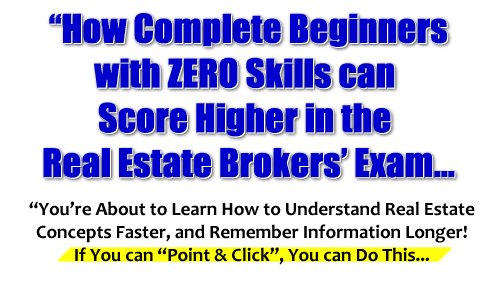 RESAR on Sep 17 2010 | Filed under: General, Real Estate Brokers' Exam
May elementary school teachers take the real estate brokers' licensure examination that will be conducted by the PRC? Let's have a look at the RESA Law IRR (RA 9646) and see what will happen in the case of Education graduates…
In PRC Real Estate Licensure Exam Requirements you'll read about Section 14 of the RESA Law IRR. Let's focus on Section 14(b):
(b) A holder of a relevant bachelor's degree from a state university or college, or other educational institution duly recognized by the CHED: Provided, That he/she has completed at least one hundred twenty (120) credit units of real estate subjects and training from accredited service providers, as may be determined by the Board; Provided, further, That as soon as a course leading to a Bachelor's degree in Real Estate Service is implemented by the CHED, the Board shall make this course a requirement for taking the licensure examination.
Notice the qualifier: relevant bachelor's degree
What course is relevant? This is subject to various interpretations, but in our opinion (and please note: we are not lawyers), Education (whether BS or AB) is a relevant course.
What is the 120 units of CPE about?
Please note that it is actually 120 "credit units of real estate subjects and training from accredited service providers, as may be determined by the Board."
While CPE seminars are usually attended by those who have already passed the real estate brokers examination, those who haven't even taken the exams should not be barred from earning CPE credit units.
Also, these CPE credit units earned should be counted in meeting the "120 credit units" requirement of the PRC/PRBRES.
Will there be a ruling that a maximum of 60 CPE credit units be counted in meeting that 120 credit units requirement, and the balance will be in the form of non-CPE units (e.g., real estate training conducted by real estate property developers)?
As you can see, we need clarificatory guidelines from the PRC regarding that magic 120 number.
What skills must a broker have?
One must have communication, analytical, critical thinking, and inter-personal skills. Aren't those skills honed in college when you take a course in Education? Why, yes!
What if you don't have an Accounting background?
If you can do basic addition, subtraction, multiplication, division… and also raising a number of a power (e.g., 1.1 raised to the 10th power), you will have the necessary computational skills.
If you don't, you can gain those skills in just 15 minutes. Basic calculators are allowed in the examination room during those real estate brokers' licensure exams.
What if you haven't taken up subjects in Business Law?
When you attend a face-to-face, regular, live Comprehensive Real Estate Seminar and Review (CRESAR) session, you will be given printed handouts of various laws related to real estate.
You can read and study those handouts and ask questions.
These laws are not complicated. They were written by regular people such as you and me. For example…
If you're not a real estate developer and you don't habitually engage in selling real estate properties, and then you decide to sell your house, you will have to pay the BIR a Capital Gains Tax equivalent to 6% times the selling price of your house and lot, or the zonal value of your land plus the assessed fair market value of your house, whichever is higher.
Now when you review, your reviewer will present the above paragraph in an easier-to-understand table, so that you can quickly see how to compute for Capital Gains Tax.
Is there an exemption from having to pay the 6% Capital Gains Tax?
Yes there is… if you are going to use the money you receive to buy another residential house that you will use. This is subject to certain requirements, such as getting a certification from the Barangay that…
Well, that will be discussed in greater detail during the CRESARs conducted by accredited review service providers.
What books do you recommend we study in preparation for the test?
Feel free to visit your favorite book store and browse through the law books available there. Focus on Income Taxation, the Local Government Code of the Philippines, the Family Code, Taxation of Transfers (Donations / Estate), Rent Control…
Go ahead and check the table of contents, and look for phrases related to real estate or property.
As I've written earlier, these laws were written by regular people like you and me. If they can understand what they've written, then so can we.
And if we can't understand the material right away… there are some annotated law books.
These are books that display the provision of law, and then explain the provision in the next few paragraphs.
You may also refer to books on Mathematics and Geometry, and learn how to use a protractor (in case you've already forgotten).
When All Is Said And Done
You know, you're an Education graduate. You probably had to read up on Behavioral Psychology, Piaget, Theories of Learning, Communication Strategies, Motivation… aren't these topics that real estate brokers need to learn?
You had to read chapter upon photocopied chapter of various thick books in the library.
Then you probably had to perform many hours of demo teaching.
From where we stand, that certainly looks like things a real estate broker has to do. Brokers need to conduct research, memorize rules, advise people, communicate well, and motivate both the seller and the buyer so that a mutually beneficial real estate transaction can be completed.
So yes, Education IS a relevant course.
Please don't wait too long, however, because when a course in BS Real Estate Service is implemented by the CHED, that will become the required course for those who wish to take the real estate brokers exam.
(Wait… if such a BS RES course becomes available in 2011, does that mean we will have to wait for 2015 when BS RES students actually graduate before they can take the exam? Or can non-BS RES graduates simply take the missing course units and qualify for the REB licensure exams before 2015?)
Anyway, as you can see, there is a need for clarificatory guidelines from the PRC.
In the meantime, take action. Seize the day! 🙂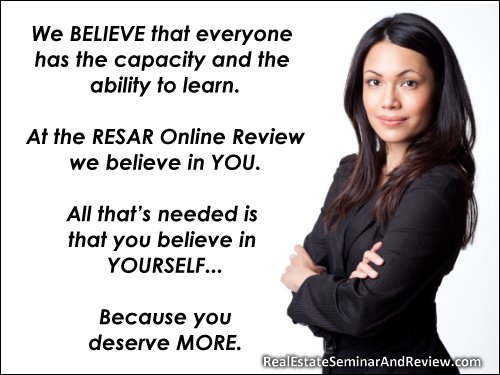 3 Responses to "RESA Law IRR, PRC, and Education Graduates"
on 02 May 2011 at 3:43 pm

1

glim salinas

i am an architecture graduate .,.can i take the resa examination?

[From the Admin]

Yes, you may apply for the Real Estate Brokers' Exam. You'll need to earn 120 units in real estate subjects. Some people earn the 120 units via a 120-hour, face-to-face Comprehensive Real Estate Seminar and Review or CRESAR.

Thanks!

on 21 Dec 2010 at 4:17 pm

2

Peter L. Larida

Do I earn credits for the online review?
Will online review can be a substitute for CRESAR as pre-requisite
to taking Real Estate Broker, and can A Registered nurse be considered or some of its subjects, a relevant subject to REB licensure?

[From the Admin]

The RESAR Online Review is not PRC-accredited, and will not earn you any credits.

The RESAR Online Review is an optional and supplementary review for aspiring real estate brokers preparing for the REB exams. It helps you learn real estate concepts faster, and retain the information longer.

If you are a graduate of at least a 4-year college course, you can qualify for the real estate brokers' licensure examinations.

Thanks!

on 19 Sep 2010 at 6:16 pm

3

Brooks Dianna

thank you…for the meantime, I am going to join the online review.

[From the Admin] Thanks! We look forward to seeing you in the online review area.
Leave a Reply